Saturday Kitchen
Olly's was in the Saturday Kitchen last weekend with Matt on the hob preparing dishes with chef Nisha Katona and the legend that is Chef Ken Hom, all plating up for guest Fearne Cotton.
Here are the drinks Olly paired for Fearne's dishes – all vegan friendly…
With Nisha's Thali of savoy cabbage, mango dahl and prawn curry with black cardamon rice, Olly recommends enjoying with a glass of Solo Pale Spanish Rosé 2021 from the Co-op (£7.25).
With Ken's Mu Shu pork with hoisin sauce & pancakes (vegan version available HERE too), Olly transported the team to Greece with Found Moschofilero & Roditis 2020 from M&S (£8.50).
With Fearne's Food Heaven of Thai vegan burger with peanut dressing, Olly went for beer with Asda's Erdinger Weissbier Wheat Beer (£1.90).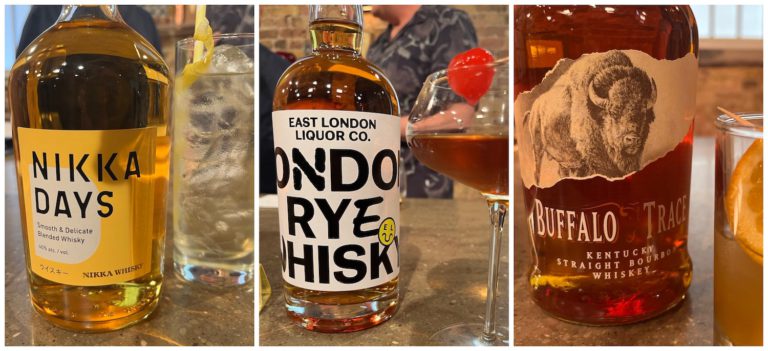 It was also World Whisky Day and Olly prepared some delicious whisky based cocktails with whiskies from around the world…
NIKKA DAYS BLENDED JAPANESE WHISKY £42, 40%, Waitrose
HIGHBALL: 2 parts whisky to four parts soda in a tall glass filled with ice and a slice of lemon, stir gently to mix.
EAST LONDON LIQUOR CO. LONDON RYE WHISKY £55, 47%, eastlondonliquorcompany.com
MANHATTAN: 60ml whisky, 30ml sweet vermouth, 2 dashes angostura bitters Method: Fill a shaker with ice, add all the ingredients, sir well, strain into a coupe glass, garnish with a speared cherry.
BUFFALO TRACE, KENTUCKY STRAIGHT, BOURBON 40%, 70cl, £24, Tesco
OLD FASHIONED: 60ml bourbon, 7.5ml sugar syrup, 2 dashes Angostura bitters, 1/2 orange slice, 1/2 lemon slice, 1 maraschino cherry. Method: muddle the fruit in the glass, discard the pulp, add the Bourbon simple syrup and bitters to the glass, stir, add cubed ice (loads) finally garnish with an orange slice and a cherry.
Next on: Saturday 4th June 2022