Saturday Kitchen
Anyone for a cocktail? Olly was back in the Saturday Kitchen last weekend with Alex Jones at the helm and a trio of amazing chefs, Ollie Dabbous, Ching-He Huang and Theo Randall!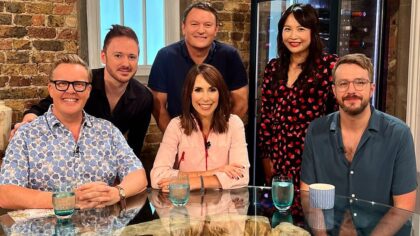 To celebrate the launch of the World Cocktail Atlas, Olly took the Saturday Kitchen team on tour of the world with three of his colourful creations..
Antiguan Smile (Antigua & Barbuda)  
Get hold of your very own copy of Olly's World Cocktail Atlas here or on the shelves in your local bookshop now!
And here are Olly's wine pairings for Ollie, Ching and Theo's mouthwatering dishes in case you missed them too…
To go with Ollie's Prawn fish cakes with coconut, lime and ginger, Olly paired Morandé Terrarum Semillón 2022, Waitrose (£9.99)
To go with Ching's Pork and Crab Noodles, Olly poured a glass of Organic Monastrell Rosado 2022 from M&S, £7.
To go with Iain's Heaven of Baked gnocchi with porcini, tomato and thyme), Olly's paired Specially Selected Valpolicella Ripasso 2021 from Aldi, £7.99
To go with Iain's Hell (Courgette), Olly's would have poured a glass of Specially Selected île De Beauté Rosé 2022 from Aldi, £8.49.