Saturday Kitchen
Olly was back in the Saturday Kitchen last weekend pouring the drinks for Matt, guest Sara Pascoe, Richard Bainbridge, Gemma Ogston. There was a mix of alcoholic and non-alcoholic drinks on Olly's drinks trolley. Here they are in case you missed them.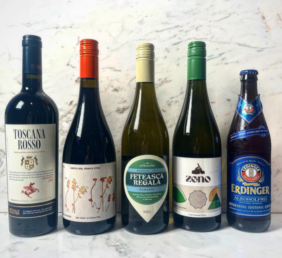 To go with Richard's Grilled aubergine with miso vinaigrette and pickled plums, Olly poured….
Specially Selected Toscana Rosso, Italy, 2021 (Aldi, £9.99)
Non-Alcoholic Option: Gnista Red Non-Alcoholic Red NOT Wine, French Style (0.5%) (Available Online, £14.50)
To go with Gemma's Super-boost rainbow curry with sweet ginger chutney, Olly recommends…
Expressions Fetească Regală, Romania, 2022 (M&S, £7)
Non-Alcoholic Option: Zeno Alcohol-Liberated White (0.3%)  (Waitrose, £9.99)
To go with Sara's Heaven (Coconut Noodle Soup) & Hell (Braised Cabbage), Olly served…
Erdinger Alkoholfrei Wheat Beer (0.5%) (Widely Available, From £1.25)
Cheers!