Saturday Kitchen
Olly was in the Saturday Kitchen last weekend with an epic line up! Matt at the helm with the amazing Emily Scott from Watergate Bay and the legendary Jeremy Lee, Chef/Proprietor of London's Quo Vadis. They were joined by Hollywood star Stanley Tucci for a Tucci Takeover!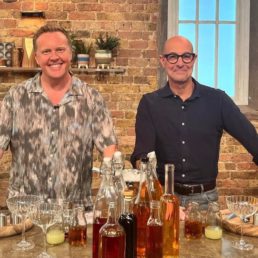 Olly and Stanley went head to head for a Saturday Kitchen Cocktail Challenge. Here's Olly's Daiquiri Up if you want to try at home..
60ml Rum
30ml Fresh Lime Juice
15ml Demerara Syrup (equal measures of sugar and demerara on a medium heat)
Fill shaker with ice.
Add all of the ingredients.
Shake vigorously until the shaker is frosted.
Strain into a chilled glass.
Garnish with a lime twist
And here are Olly's drinks pairings in case you missed them!
With Emily's Cornish bouillabaisse, Olly recommends enjoying with Taste The Difference Verdicchio Dei Castelli Di Jesi (Sainsbury's, £7).
With Jeremy's Roast leg of pork with sweet onions and sage, Olly poured a glass of The Ned Pinot Noir, New Zealand (Majestic, from £10.99).
And for Stanley's Food Heaven of Rabbit, Fennel and Orange Hotpot, Olly served Extra Special Lugana (Asda, £9.50).
Catch the episode on iPlayer HERE.