Saturday Kitchen
The Saturday Kitchen team were celebrating Christmas and Matt's birthday on Christmas Eve!
Olly was on drinks duty spreading the Christmas cheer for Matt, chefs Georgina Hayden and Richard Bainbridge and EastEnders star Kellie Bright!
Here are Olly's festive drinks pairings in case you missed them….
With Richard's Leftover Turkey Ramen, Olly paired Finest Mosel Steep Slopes Riesling QPA 2021, from Tesco (£7)
With Georgie's Loukoumathes, Olly poured a glass of Samos Vin Doux Greece 2020, Waitrose (£8.99)
The team celebrated Kellie's food heaven of Sticky prawn and cashew salad and Matt's birthday with a glass of Aldi's Veuve Monsigny Champagne Premier Cru NV (£19.99)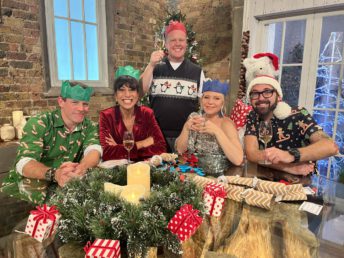 Catch the episode on iPlayer HERE.