Your Sunshine Sip List
Fruity fizz, nonalcoholic cocktails, light beer… Olly picks his perfect thirst quenchers.
Summer is the time for cold rosé, pristine whites and drinks to make you feel you're on a yacht in the Med. The trick is to buy smart rather than splurge.
It's fab to have something for all tastes and ages to enjoy, too – you can customise these with a shot of something high octane if you fancy a jolt. If you choose to blend Karma Cola with Doorly's Rum along with a slice of lime, dash of bitters and a heap of icy splendour, I'm right with you.
Cider is having a burst of quality. Sxollie is producing fresh, pure flavour with no additives. And for a fabulous French fizz bargain, the Loire is producing pristine bottles for under ten pounds – made using the same method as fancy Champagne. Thanks to the Chenin Blanc grape's fruity zing and the shorter ageing time, bottles like my brilliant Bouvet slip down joyfully.
Don't be afraid to personalise your good-value vino. It could be a spritzer – or, while the Aldi rosé I'm recommending is outstanding served just as it is, if you want to toss it in a jug with ice, chopped strawberries, fresh mint and top it up with lemonade, Sprite or 7Up, then go for it!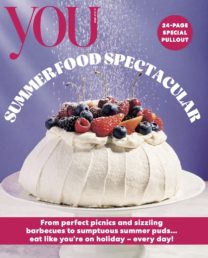 This article was originally published in YOU Magazine, Mail on Sunday, 4th July 2021 – Prices, stockists and vintages correct at time of publication.